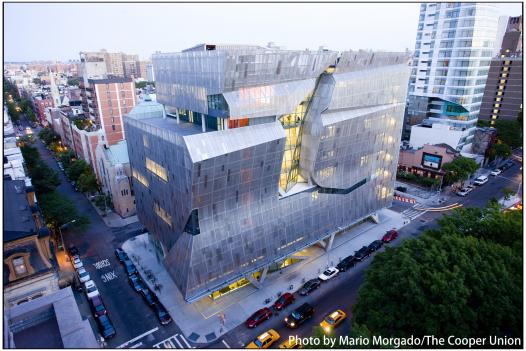 The Cooper Union's 41 Cooper Square (41CS) building is a nine-story, 175,000 sq. ft. academic building that houses a wide variety of laboratory, classroom, office, and studio facilities for the Albert Nerken School of Engineering and the School of Art. In 2010, the building received a U.S. Green Building Council's Leadership in Energy and Environmental Design (LEED) Platinum certification recognizing its many innovative green features, which serve to reduce both energy consumption and environmental footprint. Some of the sustainable building features include:
Exterior Double Skin – A perforated steel skin covers the building's exterior surface to reduce heat gains during summer months and increase insulation during the winter.
Co-generation plant – A combustion engine uses natural gas to generate electricity while using the waste heat in the hot exhaust gases to heat (or cool) the building.
Green Roof Terrace – Decreases storm water flow to New York City while reducing the 'heat island effect' by replacing pavement with a cool green space.
Rain Water Harvesting – The building collects and stores rain water to irrigate the roof garden and flush toilets on the lower levels, reducing water consumption.
Day Lighting – 75% of the building is lit naturally, reducing lighting demands and electricity consumption.
Radiant Ceiling Panels - A flow of hot or chilled water is passed through radiant panels heating and cooling indoor spaces more efficiently than with traditional forced air systems alone.
Central Atrium - The building incorporates a large central atrium that ventilates indoor spaces naturally and allows the air-handling units to recycle treated air cheaply and efficiently.
More information about these features can be found on our Green Features kiosk in the 41 Cooper Square lobby and website by clicking here.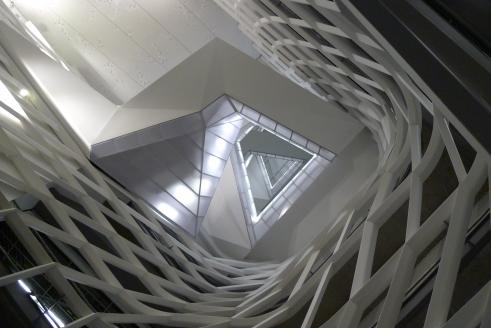 Although the features listed are important individual components of 41 Cooper Square's green design, it is the advanced Building Management System (BMS) that allows these various components to work together cohesively, boosting the building's overall efficiency. The BMS is a central control system that automatically monitors and manages every aspect of the building's operation, from air-conditioning to lighting. The BMS utilizes a large array of sensors, such as thermistors and occupancy sensors, to identify heating, cooling, lighting, and ventilation needs throughout the building. The BMS subsequently utilizes complex algorithms to analyze this data and determine an efficient method by which to meet the demand. For example, the BMS incorporates an Enthalpy Switchover System that enables the building to recognize when atmospheric conditions allow for heating or cooling needs to be met through natural ventilation. The control commands from these algorithms are relayed to actuators, such as servo valves and Variable Frequency Drives, which modulate the operation and power consumption of building equipment. In this manner, the individual building sub-components, from 500-ton centrifugal water chillers to individual window panels, are controlled from a central system that is able to simultaneously assess and address all occupational demands.
This website provides an overview of 41 Cooper Square's HVAC systems and BMS and highlights some of its green features. A series of summaries reviews the fundamental engineering principles behind the operation of the HVAC System, Cogeneration Plant, and other building systems. Particularly, the control algorithms and systems used to regulate the operation of these various green features will be explored and explained. Using the building and its integrated systems as illustrative examples, a wide range of feedback control principles and concepts will be introduced, discussed, and utilized in a real-world context.