Mechatronics Lab
Mechatronics combines mechanical engineering and electronic control using a systems perspective for the design of products and processes. With the advent of inexpensive microprocessors, the benefits of a mechatronics design philosophy span application areas such as product design, manufacturing, robotics, instrumentation, and process and device control. The Mechatronics Laboratory includes 430 square feet of designated space for both hands-on learning and research purposes with an emphasis on design and application of mechatronics and control systems theory. The Mechatronics Laboratory is used in the Systems Engineering (ESC251), Feedback Control Systems (ME351), Process Control Laboratory (ME352), Mechatronics (ME353), and Autonomous Mobile Robots (ME412) courses to supplement technical concepts with practical applications.
To experiment with problems and applications associated with industrial process control, students in ME352 and student researchers utilize process control (PROCON) test rigs, which include: (1) a liquid level-flow process rig, (2) a heat exchanger and radiator/fan temperature control rig, and (3) a pressure control rig consisting of a pipeline on which a pneumatic control valve, orifice block, flow meter and pressure tappings are mounted. All PROCON test rigs utilize ABB industrial controllers that interface with three computer workstations. These experimental workstations mirror the types of systems engineers encounter in industry, such as heating, ventilation, and air-conditioning; petrochemical; and pharmaceutical plants.
The Mechatronics Laboratory includes several computer workstations for conducting feedback control experiments and mechatronics projects. Seven workstations are equipped with a National Instruments Educational Laboratory Virtual Instrumentation Suite (ELVIS) that are used with DC motor and inverted pendulum control trainers from Quanser for systems modeling and feedback control experiments in ESC251 and ME352. The workstations are outfitted with electronics hardware, including power supplie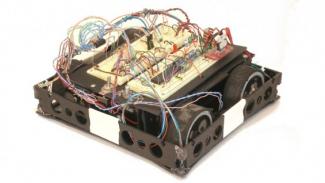 s, oscilloscopes, function generators, breadboards, and MPLAB ICD3 circuit programmers, used for signal processing and prototyping. These workstations are also used by students in the Mechatronics and Autonomous Mobile Robots courses, where students build autonomous mobile robots designed to perform tasks or to compete with each other. The laboratory is further equipped with LabVIEW software and National Instruments data acquisition devices and laptops for remote data acquisition.