Interactive Light Studio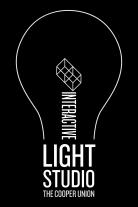 The Interactive Light Studio is an outreach program to create an inspirational play and learning space for pre-kindergarten students at the American Sign Language and English Lower School (P.S. 347). P.S. 347 is New York City's only public school for the deaf, hard of hearing, and children of deaf adults. It integrates deaf and hearing impaired children with hearing children based on the philosophy that deaf and hearing children learn best when they are taught together. The primary motivation for this project is to inspire young children to excel in science and increase awareness of how engineering can be used to make the world a better place. The project offers undergraduate students an opportunity to improve their technical and professional skills and develop a broader appreciation of the role of science and technology in bettering society.
Specific goals include designing a space for science exploration and creating a way for both deaf and hearing students to explore light and sound. Three Diversity Action Grants from the American Society of Mechanical Engineers (ASME) were awarded in 2011, 2012, and 2015 for creating interactive installations and activities. One installation consists of circuits representing fireflies that the children can move around; these electronic fireflies sense each other via infrared sensors and synchronize their flashing just as fireflies do in the Great Smoky Mountains. Another installation consists of talking flowers that transform sound to light. Sunflowers painted on the wall have microphones and audio spectrum analyzers that trigger different colored lights depending on the frequencies of the sound in the room.
An interactive projector installation uses a digital projector, Xbox Kinect Sensor, and computer running the OpenFrameworks programming language to create a large interactive screen. Currently two programs exist: one creates a virtual fish tank where the children are tracked and fish respond to the children's movement, and a second allows the children to visualize sound by triggering different portions of a song (vocals, percussion, keyboards, etc.) or by creating their own sounds with musical instruments or their voices. A duplicate installation exists in the Cooper Union Vibration and Acoustics laboratory so students can create new applications for future installation at P.S.347 or other institutions.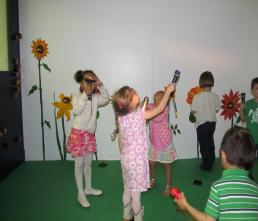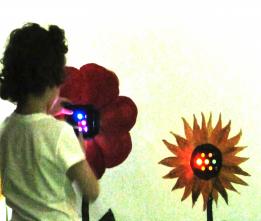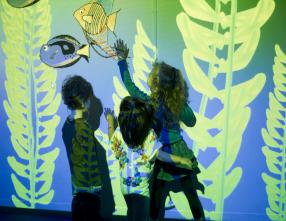 This project was featured on WABC-Channel 7 Eyewitness News New York on June 21, 2011, on NY1 News on November 26, 2013, and nationally on Time Warner networks December 20-21, 2013. The Channel 7 news clip is below:
Below is a link to a video of our latest interactive projector installation. Part of the video shows deaf and hearing-impaired pre-K students playing musical instruments and visually seeing the intensity and pitch of the sounds they create on the interactive projector. This interactive projector was also featured locally on NY1 and nationally on Time Warner cable network news and on the December 21st "It Ain't Rocket Science" show - click here for the Time Warner news clip and article.
Future grant support is being sought to expand the Interactive Light Studio. Please contact Professor Melody Baglione at melody@cooper.edu if you are interested in learning more.
Media
The Huffington Post and Live Science featured our Interactive Light Studio in an article "How Visuals Can Help Deaf Children 'Hear'"by John Varrasi on July 29 and July 25, 2014.
Design & Trend posted "New Interactive Studio Allows Deaf Children to 'Hear'" on July 25, 2014.
"Light Studio Engages Hearing-Impaired Students" was featured on the ASME homepage the week of August 6, 2014.
Click here for a link to ASME ME Today Article "Interactive Light Studio Stimulates Learning: Designed for Special Hearing Impaired Children" by Alaina G. Levine.
Related Publications
Baglione, M., Short, D.,Correll, C., Tan, D., "Developing Installations and Activities for an Interactive Light Studio at the American Sign Language and English Lower School," Proc. of 2012 ASME International Mechanical Engineering Congress and Exposition, November 9-12, 2012, Houston, TX.
Baglione, M., Wong, N., Clevenson, H., O'Meara, B., Baker, J., "Creating an Interactive Light Studio for the American Sign Language and English Lower School," Proc. of the 2011 ASME International Mechanical Engineering Congress and Exposition, November 11-17, 2011, Denver, CO.