Senior Projects > Development of an Airship Flight Control System
Abhay Masher's projects involved the design and implementation of a teleoperated airship. This project was supported by ITT Exelis, and it was one one of three projects presented by Cooper Union at ITT Exelis during the spring 2012 semester. The project also received technical support from Mike Caddy, a NAVAIR associate fellow and Aero Engineer at Integrated Systems and Solutions Inc. The project also represented Cooper Union as an entrant in the 2012 IEEE RIT Student Design Contest.
Abstract from Abhay's final paper:
This report describes the design, construction, and testing of a small airship. The design process of the airship using teleoperated flight controls is illustrated. We document the construction of the airship and we explain how the airship structure has been improved by using flight test data. We have conducted preliminary work in developing an autonomous actuation system for telemonitored flight. The planned system framework, controller design, and brief testing of a controller using fuzzy logic is discussed.
Click here to see a video of a successful test flight of Abhay's airship in Cooper Union's historic Great Hall!
Below, Abhay is seen with fellow students preparing the airship for a test flight: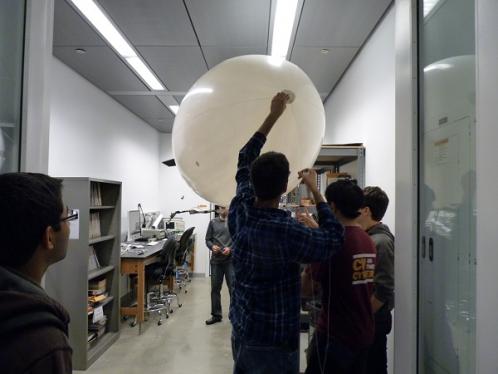 Below, the airship is ready for a test flight at a local gymnasium: