History of the Chem and ChemE Departments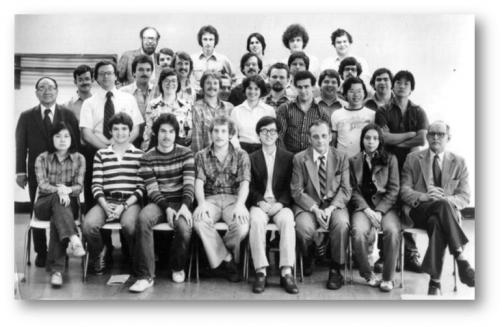 In this space I will attempt to compile links, photos, essays and other information detailing the histories of the Cooper Union's Department of Chemistry and the Department of Chemical Engineering. The image to the right was taken in 1979 and features faculty and alumni from the Chemical Engineering and Chemistry departments. Among the faculty pictured here are John Bove (Chemistry), S.I. Cheng (Chemical Engineering) and Zvi Kornblum (Chemistry).
Established in 1859 at the founding of Cooper Union, the Department of Chemistry is one of the oldest academic chemistry departments in New York City. [1] One of Cooper Union's most famous alumni, Thomas Edison, studied chemistry here in 1872.[8] A "course" (degree program) in Chemisty existed at least as far back as 1888.[9] A degree in Industrial Chemistry was launched in 1920, which may have been the forerunner of the Chemical Engineering degree at Cooper Union. [2]
The following is an incomplete list of full-time and adjunct faculty who have served the Department in the past.
Those who are known to be deceased are marked with an asterisk (*). Years of service follow
each person's name in brackets where this is known.
Horace G. Byers,* Professor of Chemistry (Department Head during 1920s; joined CU after WWI) (b.1872; d.1956) [2,6]
John L. Bove, Professor Emeritus of Chemistry and Environmental Engineering [1951-20XX?]. B.A., M.S. Bucknell Univ.; Ph.D. Case-Western Reserve University.
Shang-I Cheng, Professor Emeritus of Chemical Engineering. B.S., National Chekiang Univ.; M.S., Ph.D. University of Florida.
Henry B. Hope, Professor Emeritus of Chemical Engineering [3]. B.Ch.E., M.A., Ph.D. (institutions unknown)
Zvi C. Koren (formerly Kornblum), Professor of Chemistry [1977-1990]. B.S. Brooklyn College, Ph.D., City University of New York.
Rebecca A. LaRue, Associate Professor of Chemistry. [19XX-2001]. Ph.D., Univ. of Cincinnati.
Herbert Liebeskind,* Professor Emeritus of Chemical Engineering (1945-1987) (d. April 1, 1996). B.S., New York University. [4]
Arthur H. Radasch,* Professor Emeritus of Chemical Engineering (1938-1963) (d. Feb 23, 1975). Mass. Inst. Tech.[7]
Maximilian Toch, Adjunct Professor of Applied Chemistry (coordinated the degree in Applied Chemistry announced in 1920) [2]
The following list of names was found in the Records of the Cooper Union Engineering Honor Societies, Mu Alpha Omicron and the Iota Chapter of Tau Beta Pi, 1926-1981.[5] Most of these names have yet to be cross-checked.
Joseph Allerton, Instructor in Chemistry
Alfred R. Bayer, Instructor in Chemistry
Henry A. Birdsall, Instructor in Chemistry
Temple Clayton, Instructor in Chemistry
Donald W. Deed, Instructor in Chemical Engineering
Frank G. Foote, Assistant Professor of Metallurgy
Frank R. Forrester, Instructor in Chemistry
Henry B. Hope, Assistant Professor of Chemistry (see above; changed titles?)
Herbert Liebeskind, Chemical Engineering
August Mendizza, Instructor in Chemical Engineering
John D. Oathout, Instructor in Chemical Engineering
J. Merriam Peterson, Assistant Professor of Chemical Engineering
Arthur H. Radasch, Professor of Chemical Engineering and Head of Department
Albert Reis, Adjunct Professor of Chemical Engineering
Fred J. Roeben, Instructor in Chemistry
Clarence S. Sherman, Assistant Professor of Chemistry
Charles F. Stolzenbach, Instructor in Chemistry
William J. Wiswesser, Instructor in Chemical Engineering
[1] http://library.cooper.edu/archive/annual_reports/1859-1860%20Annual%20Report%20Part%201.pdf
[2] See Journal of Industrial and Engineering Chemistry, Vol. 12, No. 6, pp. 611-612 (June 1, 1920).
[3] http://pubs.acs.org/doi/abs/10.1021/cen-v028n022.p1865
[4] http://prabook.com/web/person-view.html?profileId=815528
[5] http://cooper.libguides.com/FAEngHonorSoc
[6] http://academictree.org/chemistry/peopleinfo.php?pid=52502&expand=bio
[7] The New York Times, Feb. 24, 1975, p. 24. Accessed 1/10/2017. http://www.nytimes.com/1975/02/24/archives/arthur-radasch-chemist-taught-at-cooper-union.html?_r=0
[8] R. Conot, Thomas A. Edison: A Streak of Luck (Da Capo Press, New York, 1979).
[9] Cooper Union Graduation Program, 1927 (Viewed in the Cooper Union Archives on 1/17/2017).